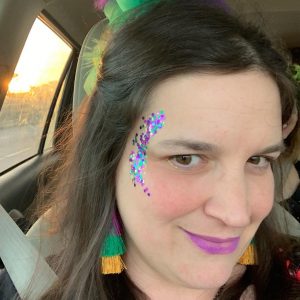 Jen is a writer of Women's Fiction with an emphasis on the paranormal and loads of romance. As a New Orleans transplant, she also contributes to New Orleans Mom, one of Louisiana's largest parenting resources.
From a young age, Jen was an avid reader who quickly graduated from Beverly Cleary to Judy Blume to stealing Nora Roberts and Mary Higgins Clark books from her mother's bookshelves. Plus a lot of Stephen King. It created a longstanding passion for adding drama, mystery, magic and everyday-life struggles to a beautiful romance.
When she's not writing, Jen enjoys walking at the park, taking yoga classes, and swinging Kettlebells around the city (although not literally… there are too many ducks and really old Oak trees). She loves chats at coffee shops with a good friend and insists on having a family fun day at home once a week. Those days are for couch time, completing puzzles, or playing video games with her husband and two kids. 
She is a regular contributor and events coordinator with New Orleans Mom, one of the largest parenting sites in Louisiana. She has also provided guest contributions to New Orleans Living Magazine and Time Worn Tales. Her flash fiction has been included in Spark Magazine.
Jen and her family, plus a variety of furry critters (and the occasional reptile), live in New Orleans, a city so close to her heart it features prominently in her books.